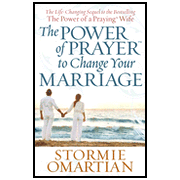 The Power of Prayer to Change Your Marriage
By Stormie Omartian / Harvest House Publishers

With her hopeful approach, Stormie Omartian tackles 14 serious threats to a lasting marriage - including communication breakdown, financial difficulties, infidelity, depression, and sexual frustration. Through biblical insights and personal prayers, she shows you how to protect your marriage and experience God's healing and restoration! Previously published as Praying Through the Deeper Issues of Marriage. Paperback.